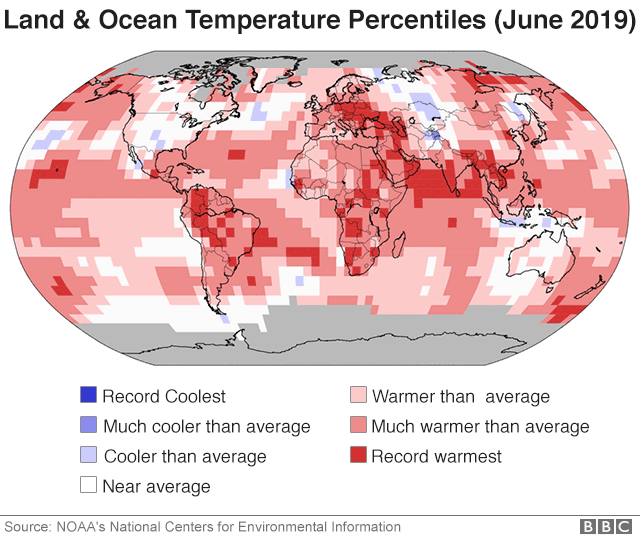 You weren't just imagining it, this past July was the hottest month ever recorded.
As
CNN reported
, "the European Union's Copernicus Climate Change Programme, which analyzes temperature data from around the planet, said that July was around 0.56 °C warmer than the global average temperature between 1981-2010. That's slightly hotter than July 2016, when the world was in the throes of one of the
strongest El Niño events on record
."
What's Different This Time Around:
While the previous record in 2016 was set during an especially strong El Niño year (
read more
about what that means), 2019 only saw a weak El Niño effect which made the recent extreme heat around the world even more alarming. As
the BBC explained
, "the new July mark follows on from a global record for June, which was confirmed by data from several different agencies. According to Copernicus, every month this year ranks among the four warmest on record for the month in question."
Is Climate Change to Blame?: While scientists cannot directly link the heat record to climate change, there is scientific consensus that GHG emissions from human activity are altering background temperatures of our planet and making this type of extreme heat more common. 
But Wait, There's More!:  Europe's latest extreme heatwaves HAVE been linked to climate change.
As Quartz explained
,
hanks to rapidly-improving attribution science, we know exactly what drove that recent European heatwave. An attribution study (
pdf
) published recently by meteorologists and climatologists at the UK Met Office, Oxford University, and several other European institutions found that across all European locations they looked at, the heatwave "would have been 1.5 to 3 ºC cooler" if it were not for the climate change that has taken place since the industrial revolution.
Why This Matters:
If we do not take comprehensive and immediate action on climate change then this record will continue to be broken and some places on Earth will
become unlivable
. This will lead to all sorts of geopolitical instability, the beginning of which we're just
starting to witness
. Here in the United States off-the-charts heat
will affect millions of people
in the coming decades and if we don't want this to become a full-blown reality then we must use the upcoming election to vote for candidates with a plan to take action on climate change as time is of the essence.
August 5, 2019 »