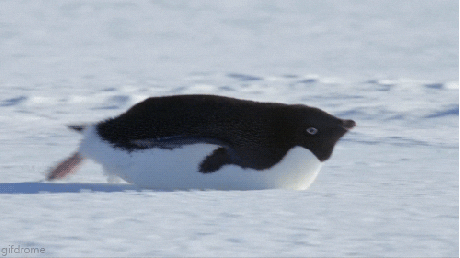 What's the best way to track remote colonies of Adélie penguins and figure out what they're eating? Monitor their poop using satellites. Landsat satellite images have been used to monitor the Earth since 1970 and while they have been able to tell scientists how many penguins make up a colony by tracking the size of penguin poop stains, new research is using the images to track what the penguins are eating.
Adélie penguins' poop color is determined by what they eat and the level of caratenoids in their diet. As Science News for Students explained, Casey Youngflesh, an ecologist at the University of Connecticut collected penguin poop samples in Antarctica and ran them through a spectrometer and measured nitrogen-15 levels to get a baseline of how various penguin foods affected the color of their poop. Youngflesh used math to translate the detailed spectrometer data to the less-detailed data in the Landsat photos. Afterward, each pixel depicting poop on a Landsat image could be linked to the dominant item on the penguin menu: fish or krill.
Adélie penguins in West Antarctica tend to eat more krill. Those in East Antarctica eat more fish. Youngflesh shared his findings on December 12, 2018, at the American Geophysical Union's fall meeting in Washington, D.C.
January 28, 2019 » Adélie penguins, Antarctica, Casey Youngflesh, fish, krill, penguins