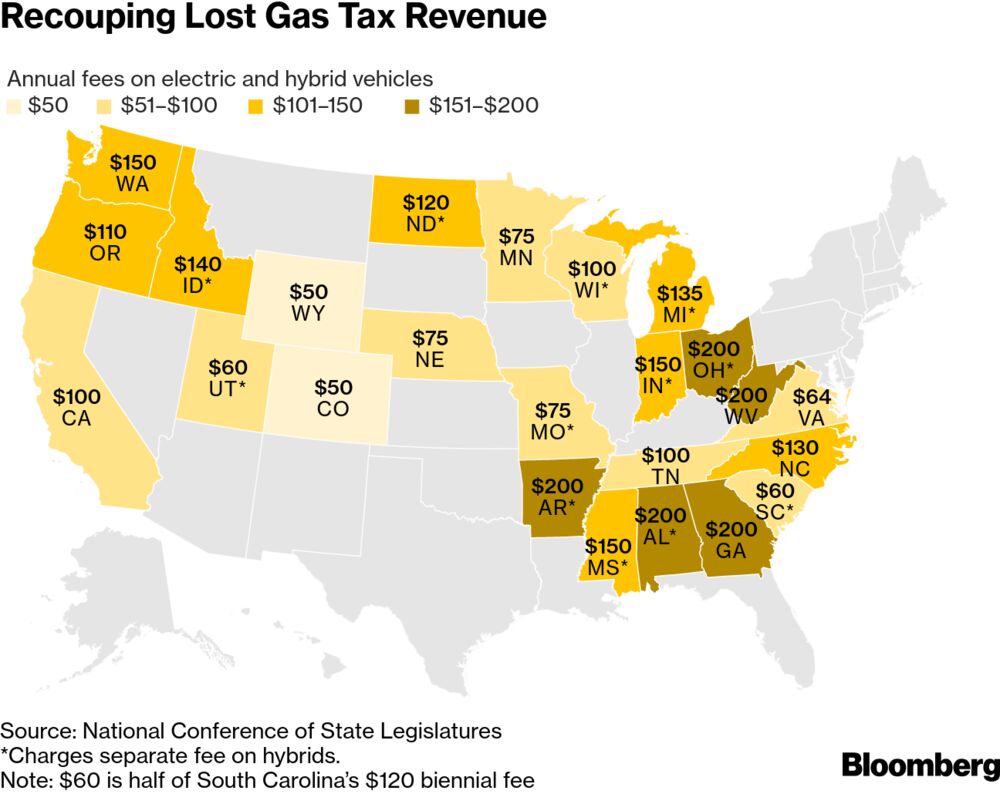 Most European Union member countries offer tax and acquisition incentives for electric vehicles in hopes that they can help fight climate change but here in the U.S., in nearly half of states, driving a battery-powered car requires paying additional fees. As Bloomberg reported, "to date, 24 states have imposed special fees on electric vehicles, according to a national association of state legislatures. The money usually comes in the form of higher registration costs that can range up to $200 per year. More states are poised to follow. Last week, one Illinois legislator even proposed a $1,000 annual registration fee for electric cars." Even in California, which is responsible for half of the 1 million EVs sold in the U.S will begin charging registration fees for electric vehicles as a way for drivers to pay for their fair share to maintain roads and bridges (public services typically financed by gasoline taxes).
As Bloomberg further explained:
To EV advocates, fees to offset lost gas taxes look like a solution to a problem that does not yet exist. Some of the states that have imposed fees, such as Idaho and North Dakota, have fewer than 1,000 battery-powered cars on the road.
The amount of tax revenue lost as a result remains minimal to EV supporters, who see the fees—at least in some states—as part of a broader political push-back against alternative energy technologies.
As Simon Mui, a senior scientist and EV advocate with the Natural Resources Defense Council explained, "I suspect that behind a lot of these state efforts, there is a bit of an oil-industry push to slow the increase of EVs in the market."
Industry groups like API still argue that since EV drivers use roads yet don't pay gasoline taxes that they should be forced to pay for this public infrastructure through registration taxes.
However other nations like Norway and China who subsidize EV sales and provide other benefits to drivers have seen electric vehicle sales drastically increase.
Norway, for example, exempted electric car sales from taxes and offered drivers such perks as free parking in many cities; electric cars accounted for more than half of sales in the country in March. China's incentives and mandates have been powerful enough to boost sales to more than 1 million electric cars in 2018 alone.
Why This Matters: As EVs and hybrid grow in popularity and drive the decline of gasoline sales, the U.S. Highway Trust fund is inching toward insolvency. It's time that we consider another tax mechanism to fund the maintenance and improvement of our roads and infrastructure, something the Green New Deal alludes to. At the same time, we must prioritize the transition to EVs in the United States as transportation recently became our largest domestic source of carbon emissions. Federal and state support to help this transition is critical and while it should be one step of our climate action plan, as the Guardian explained last year it could be an incredibly critical component. Also worth noting is that we also focus on building more walkable cities and communities so that we can begin to decrease our reliance on single-occupancy vehicles altogether.
May 14, 2019 » climate action, EVs, taxes