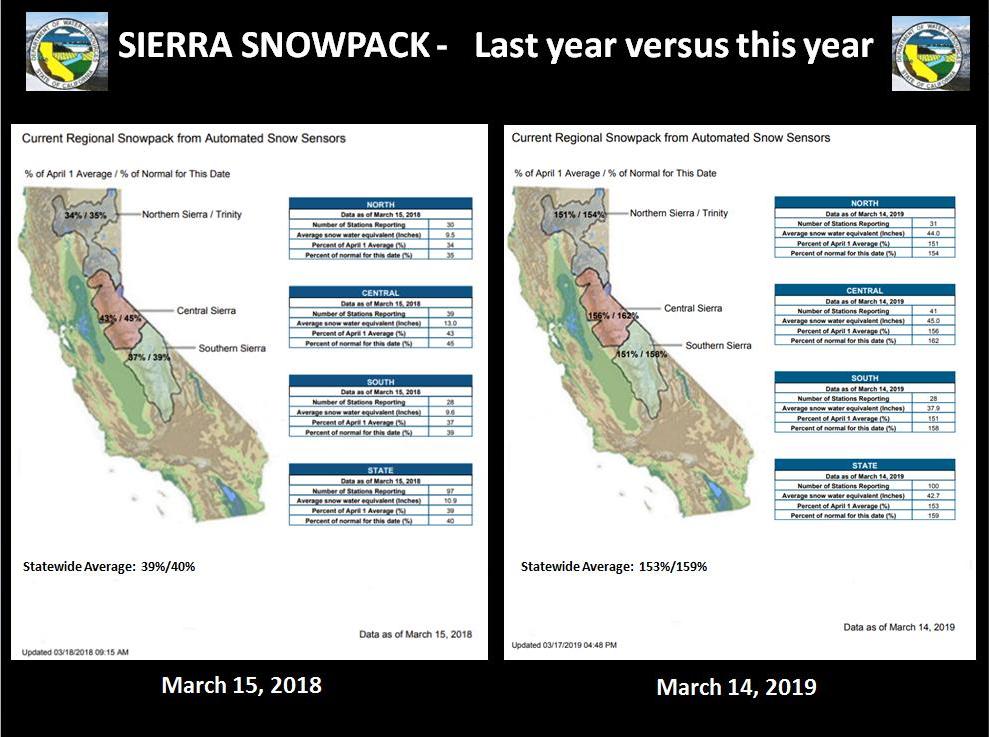 After years of drought in the Sierra Nevada and Rocky Mountains, this past winter has brought staggering amounts of snow. In the Sierras, snowpack is at a staggering 156 percent of normal as of Wednesday and in Colorado, drought levels dropped by half in just a week as a result of snow storms. This is great news for skiers but also shows the drastic swings climate change can bring and the unpredictability of snow for winter athletes. In our recent interview with Olympic champion skier, Lindsey Vonn, she told us that the USA ski team "is used to traveling around to find good snow and it feels like each year it gets harder and more unpredictable to get the places with snow. I think global climate change has made skiing a constant guessing game, you can never rely on anywhere having lots of snow or no snow. For example, in 2017, Vail had little to no snow at Thanksgiving (opening day), and in 2018 it was dumping snow and most of the mountain was open even before Thanksgiving."
All this snow, as well as the Polar Vortex we've experienced in recent years, has been twisted by climate deniers who claim that winter storms are an indication that our planet is not warming to the degree that scientists claim. But as the Climate Reality Project explained, "more and more research indicates that as global temperatures warm and Arctic ice melts, the jet stream is slowing down and becoming wavier, allowing frigid polar air to spill into places that aren't as accustomed to seeing it." Climate change is also behind LA's recent snowstorm that puzzled Angelenos and caused some unbelievable photos.
Why This Matters: While this winter has turned the West into a snowsport paradise, there's no telling what next year can bring and whether drought will return. For elite skiers, this can prove to be a serious liability, but for the many Americans who rely on snowpack for their drinking water, these fluctuations can create a crisis as snowpack is such an important component of our water resources.
Super Cool: As ESPN reported, hitting back at the president of his sport's governing body, Swiss skier Daniel Yule will give his half of his prize money this month to an athlete-backed charity campaigning against climate change. The Olympic gold medalist said Monday he is "putting my money where my mouth is" after criticizing International Ski Federation president Gian Franco Kasper at the world championships last month. Kasper's comments about "so-called climate change" in a Swiss newspaper interview prompted Colorado-based nonprofit Protect Our Winters to urge him to resign.